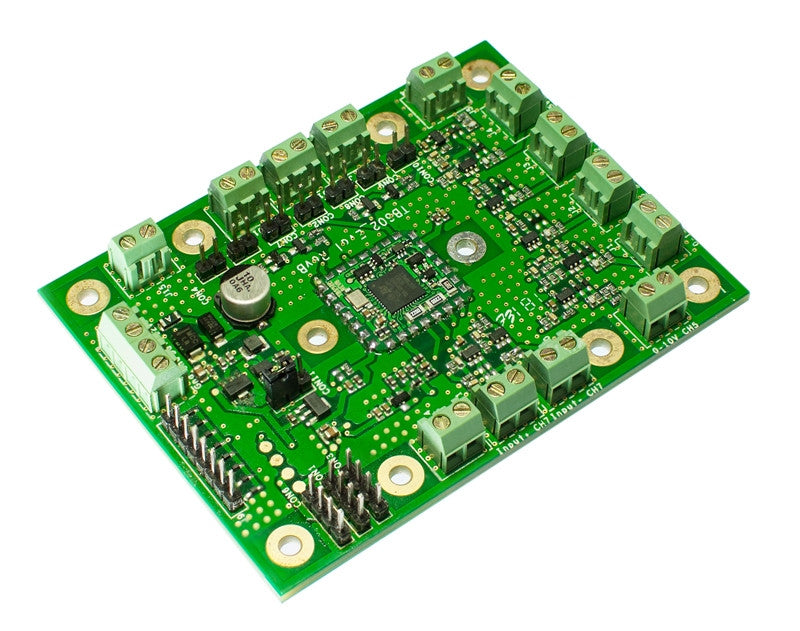 TekBox
Analog to SDI-12 Interface Board TBS02A-IFB
---
The TBS02A-IFB is an 8 channel SDI-12 to analogue interface board for A/D conversion of sensor signals, primarily designed as evaluation board for the TBS02A module. A/D conversion and configuration of the board is controlled via SDI-12 commands. The interface board is equipped with signal conditioning circuits for various input voltage ranges. It offers low current consumption and is built to fit into an off the shelf IP67 housing.
Each channel can be independently scaled with a 3rd order polynomial to enable gain and offset calibration of the connected sensors.
A built in thermal sensor offers additional versatility.
The TBS02A IFB provides digital signals for the power management of the connected sensors. Two on board, high side FET- switches can be routed to any control signal and used to power on/off connected sensors.
Specifications

:
SDI-12 / ANALOG Interface
8 x 12 Bit ADC channels
7 single ended and 1 differential input
1 x 0...1V, 2x 0...2.5V, 2 x 0...5V, 1 x 0...10V, 1 x 0...2.5V unconditioned, 1 x differential current loop inputs
Input over-voltage protection
Integrated 12 Bit temperature sensor
Configurable sensor power management signal for each channel
Configurable slope and offset for each channel
Power Down Mode
SDI - 12 Standard V1.3
Plug and Play
6 - 16V supply voltage
94 mm x 71 mm x 13mm
Compatible with off shelf IP67 housing – Fibox PC081206
Operating Temperature Range: - 40°C … + 85°C
Target Applications:
Documentation downloads:
TBS02A-IFB Flyer
TBS02A-IFB Manual
TBS02A-IFB Schematics
---
Share this Product
---
More from this collection